Profile
Tricia Wong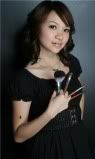 A Professional Make Up Artist.
Who thinks the world of make up is her playground.
What she says:
"I truly love cosmetics, make up and beautilicious stuff. Everyone would give good reviews about my make up skills, however I do have some bad ones that will inspire me to work harder and improve myself.
Please do not think that by putting make up is to be a complete fake but actually to boost your confidence level. Plus its not a crime wanting to look good sometimes no??? ;)
To me God is the One and Only, creating people who are not perfect but have such beautiful souls.
Ready to be of service.
Services available:
1. Eyebrow Trimming
2. Bridal Makeover and Hair Styling
3. D.I.Y Bridal Hair Accessories
4. Photo Shoot Makeover
5.Formal Dinner Makeover
For more info, please email at:
w_syeng89@yahoo.com
Please feel free to post a comment or two on my CBox or email me personally and I'll be more than happy to reply your messages. Thank you!!!
Special credits to Woman Incorporated who helped me with the blog layout!!! Your help is deeply appreciated. Much love to you!!!"
UNLEASH THE ART IN YOU
You Are
Lipstiq Number
Move Drop
And Shake